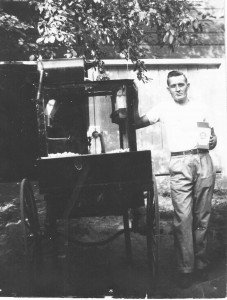 I was brought up in family businesses.  My father's family built a push popcorn wagon shortly after the movie theatre opened in our town in the 1950's.  As the story goes, my grandfather made 78 cents on his first night.  That 78 cents continued to grow, and soon my family built a small grocery store next door to their home.  My favorite item was the penny candy.  When a larger grocer moved into town, we sold the store and built a sporting goods store that remains in operation to this day.
My decision to leave the business world came after witnessing the devastating effects of  poverty on my home town, especially on the children.  The primary industry had always been a paper mill.  As the demand for paper decreased, the mill began a slow decline of lay offs and the eventual closing altogether.  The closing of the mill impacted everyone.  I saw the loss of jobs lead to many destructive decisions by people including a marked increase in abuse and addiction to various substances throughout the area.  I sold the business and began my journey into the field of Chemical Dependency Counseling.
That journey began nearly seventeen years ago.  Today I work as the Coordinator of Chemical Dependency Studies at a local college.  I stay active as an Addictions Counselor for a nearby substance abuse clinic, while serving on the Executive Board of the Community Prevention Council in my hometown.  I am currently working on a book about the social aspects and implications of the abuse and dependence on alcohol. 
I am convinced that our lives are meant to be a great journey.  We take each step with intent, and there is a map of purpose in all lives.  As I reviewed my life, and the lives of my relatives and those around me, I was able to see the map and design of things more clearly.  I recognized the pattern of hard workers, entrepreneurs, dreamers, and helpers that designed and wrote the map of my life.

Helping others through sharing what I have learned and experienced is what I was meant to do.  It is an essential part of my life journey.  My goal, through every service provided at First Step, is to help each individual, regardless of age, or life experience, to reflect on their own pasts and their own footsteps more clearly.  By doing this, I hope to help others recognize their purpose and to begin pursuing the great journey in their life.
Follow the link for recent articles about First Step:
http://www.saratogian.com/articles/2012/09/30/news/doc5067a1530b02c528831444.txt?viewmode=fullstory#.UGiMYP9SFBQ.facebook
http://www.nysut.org/cps/rde/xchg/nysut/hs.xsl/nysutunited_17913.htm
http://www.saratogian.com/articles/2011/10/01/opinion/doc4e87ad8f4d111393192183.txt
http://www.saratogian.com/articles/2010/11/20/wglife/doc4ce5a20e3c72d029316143.txt
http://www.saratogian.com/articles/2010/09/08/news/doc4c86e334c4b1a447863523.txt