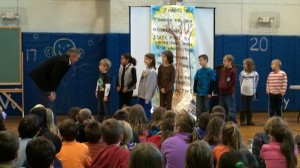 "Brian Farr was exactly what we were looking for!  He crafted a program for us that incorporated all the pieces our character education committee was looking for.  He demonstrated his ability as an educator by bringing abstract concepts to the developmental level of the children.  We couldn't have been more pleased." Tina Davis – Assistant Principal, Dorothy Nolan SchoolPresentations:   First Step has a variety of engaging, high energy presentations for various audiences and settings.  Our primary focus is empowering young people, but we believe that education for parents, teachers, and other service providers is essential.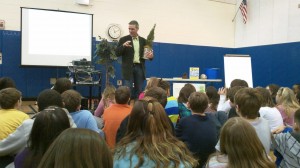 " Brian Farr did an excellent job of taking the specific needs of our district and creating excellent age appropriate presentations for every grade level he worked with.  Brian researched our area and incorporated facts into the presentations.  This gave the children and staff a sense that he really showed a genuine interests in the school and community.  His presentations were insightful, creative, and entertaining." Sarah Chapin, PTO Teacher Member and Special Educator
Please keep in mind that the presentations listed below are just a sample of the services and overall character education/prevention messages that we focus on.  Your presentation will be custom made, and involve participation by students, staff, and pre-determined target goals within a specific area of concern.
Please contact us directly to discuss a customized presentation to meet the character education and/or prevention needs in your organization, school, or town.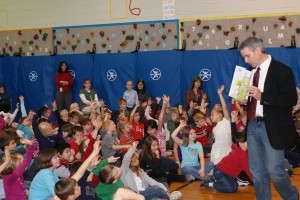 "Kids hear a great deal about making good choices and bullying, but Brian's message was so relevant to Ticonderoga and the age of the children he met with that I think it had much more of an impact than some of the other (one-size-fits-all) presentations out there." Anne Dreimiller – Ticonderoga Principal
Here is a list of current presentations:
For Students:
Student presentations challenge participants to go beyond what they can see in others and to remember the humanity in all of us. These unique and energetic experiences are aimed at building strong character in our children.   Students are taught the root causes of destructive behaviors by examining the inner effects that family, friends, schools, and society in general have upon us all. These presentations can be given to larger assemblies or smaller classes. Content is varied for age appropriateness.
Presentation Titles and Descriptions:
New for 2014 – 2015:   Win the War on Drugs:  Everywhere the media is talking about the "heroin epidemic," and the tragic results of using opiate drugs.  This needs to end.  But we will never win the "War on Drugs" by concentrating on only one substance.  The "gateway drug" for all children is the first thing that they use with the expectation of changing their mood.  In this presentation, students are challenged to consider what a drug is and why people begin to use drugs.  We then focus on the most effective prevention techniques to stop these problems before they begin.
Don't Take The Bait : This presentation was designed to highlight the mandates of The Dignity for All Students Act while teaching students the many ways that they may "take the bait" that leads to negative behaviors.  Participants are challenged to find the ways that others may be "fishing" for them to discriminate, harass, or bully peers in within the school or community.  Each presentation is created to incorporate any specific concerns that school districts may have.
L. O. L. :  The impact of the cyber world and technology on our youth is truly amazing.  In this presentation, the focus is on exploring the wonders, the power, and the potential dangers associated with modern technology.  Students will consider the great potential for learning, research and future opportunities that modern technology provides.  Students will also participate in scenarios that can result in miscommuniction, cyber bullying, and  other dangerous situations through internet use.  Site specific issues involving internet, cell phone, or other technology uses are always encouraged and can be incorporated into presentations.
NO BIG DEAL: In this presentation, students are challenged to think about the short term and long term effects of substance abuse and destructive behaviors. Content is varied depending on the age of the audience. The main focus of the presentation is to show the similarities in all mood altering chemicals, and to show the root causes of many addictive behaviors. Students are given practical information and advice on how to begin recognizing signs of addiction and how to avoid pitfalls in their own lives.
EVERYBODY ELSE WAS:  This presentation is focused on defining and recognizing the various forms of peer pressure that young people live with each day.  Participants are asked to give examples of peer pressure and to discuss how they feel that it impacts their behaviors.  Presenter will give examples of how peer pressure has lead to negative consequences in the lives of other peers, and how this pressure can lead people away from their true identities and life goals.
GATEWAYS:  Many people recognize that the use of one substance often leads to the use of another.  In this presentation, we will explore this concept, often called "The Gateway Process," and role play how the process happens.  Students will learn about how using one substance greatly increases the chances of using another.  We will also apply this "Gateway Process" to what students say and how they behave towards each other.  In this way,
I SPY: Students are shown a series of projections and asked to point out what they see and what they think is happening. When the "real" situation is described, students examine how and why we make judgments and assumptions. Students then are challenged to examine the judgments and assumptions placed on themselves and others.
MY GENERATION: Students are challenged to consider the many opportunities and challenges of their generation and to begin formulating goals and plans for the short term and for the long term. This presentation involves a variety of technology and comparison with past generations and other cultures. Participants work together to formulate the opportunities and challenges that they face as a generation.
For Teachers and School Staff:
The primary goal of these presentations is to help teachers and school staff recognize the signs and symptoms that students may be either involved in abusive/addictive behaviors, or have some type of the behavior going on at home.
Staff will also learn about the various types of mental health issues that can increase risk for addiction, what addictions students are prone to at various grade levels, and what substances, behaviors, and clues to look for in students. Staff will also go beyond "mandated reporting," and learn the most effective tools to communicate concerns to students, parents, caregivers, and administration.
Presentation Titles and Descriptions:
NOT MY KID:  During this presentation, participants are given the signs, symptoms, and behaviors behind many negative decisions that young people make.  We also explore the social factors that put young people at risk, and the denial that many families experience and stay "stuck" in.  Audience members will be given tools to help both family members and young people who are beginning to exhibit dangerous choices.
ADDICTION 101:  This presentation is designed to give an overview of the differences between use, abuse, and dependence on substances.  Participants will also learn about behavioral addictions, and the signs and symptoms to look for with each.
For Businesses and the Workplace:
Our presentations for companies and businesses are focused on exploring personal and professional mission statements and questioning the role of alcohol, drug, and other destructive behaviors in those mission statements.
In my role as an educator and counselor, I have found that some of the best suggestions and behaviors for successful businesses also work well in personal lives.  The following presentations highlight effective practices for businesses and show participants how to use the principles outside of the workplace.
Presentation Titles and Descriptions:
IT'S ALL BEEN SAID BEFORE: In this presentation, Participants review the ideas that have worked for successful individuals and businesses in the past. The audience then looks more closely at these ideas to see the core values and practices that have been used throughout history by successful individuals. This presentation is focused on giving a summary of the best "self help" practices throughout time, to show employees what they are doing for their own health and well being, and what might be missing. We also discuss how people who are primarily unhappy often turn to destructive behaviors in an effort to gain happiness. The presentation requires audience participation and often combines with a follow up session a week or two after the first.
WALKING THE WALK: In this presentation, employers and employees focus on how opinions and productivity are often formulated based on actions rather than on words. Participants discuss the many ways in which people can speak in one way but behave very differently and how that effects working relationships and overall productivity. One of the key areas of discussion in this presentation is on communication and using words wisely. Information and best practices about communication are drawn from several renowned resources, and participants are given an opportunity to begin changing communication patterns during the presentation. Follow up visits with smaller areas of a company are available following the initial presentation.
First Step Consultation a proud participant in the Capital Region  BOCES Arts and Enrichment Program.  Follow the link to learn more about reimbursement through BOCES Arts and Enrichment:
http://artsined.neric.org/details.cfm?ArtistsID=2479